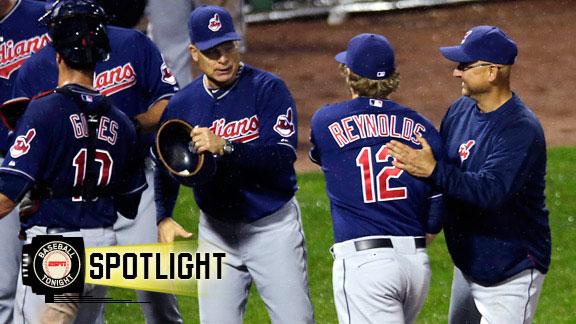 Francona Back In Boston; Indians Win
Francona Back In Boston; Indians Win
VIDEO PLAYLIST
Francona Back In Boston; Indians Win
Francona Back In Boston; Indians Win
Tigers Get Rain-Soaked Win Over Indians
Tigers Get Rain-Soaked Win Over Indians
BOSTON -- Terry Francona returned to Fenway Park and found some more pleasant memories.
A standing ovation. A video tribute to his time as manager of the Boston Red Sox. And, most importantly, a win for his Cleveland Indians.
Drew Stubbs, Mark Reynolds and Michael Bourn combined for nine hits and eight RBIs and the Indians had 16 hits in their 12-3 win on Thursday night.
"I tried to keep my emotions inside," said Francona, who led the Red Sox to two World Series championships in eight years. "I didn't want to be the main focus. You want to let the players play."
...
Continue reading