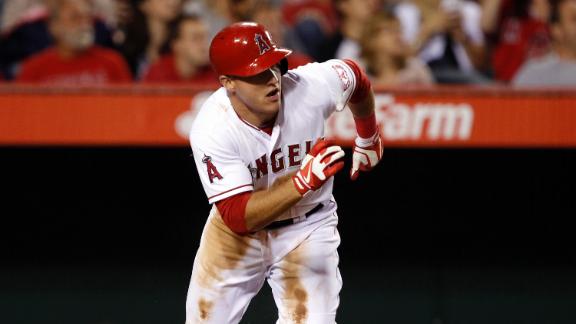 Trout's Cycle Fuels Angels
Trout's Cycle Fuels Angels
VIDEO PLAYLIST
ANAHEIM, Calif. -- Mike Trout hit for the cycle and drove in five runs, Josh Hamilton celebrated his 32nd birthday with a homer and a triple, and Howie Kendrick also went deep in the Los Angeles Angels' 12-0 rout of the Seattle Mariners on Tuesday night.
Trout, last season's AL rookie of the year and MVP runner-up, became the sixth player in Angels history to complete the cycle and the first to do it since Chone Figgins on Sept. 16, 2006, at Texas.
After taking a called third strike his first time up, Trout reached on an infield single in the third inning, hit an RBI triple in the fourth and added a three-run double in the sixth before homering in the eighth on a 2-0 pitch from Lucas Luetge.
Jerome Williams (3-1) scattered six hits over eight innings, struck out six and walked two while helping send the Mariners to their season-high fifth straight loss. The right-hander, who was lifted after 107 pitches, got one more run of support as he did in his three-previous starts this season combined.
...
Continue reading