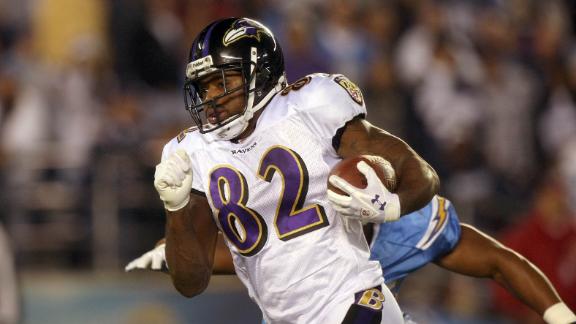 Ravens Torrey Smith's Brother Dies After Motorcycle Crash
Ravens Torrey Smith's Brother Dies After Motorcycle Crash
Baltimore Ravens receiver Torrey Smith's younger brother Tevin, 19, was killed in a motorcycle crash.
Torrey Smith left the Ravens' hotel on Sunday at 2 a.m. ET, accompanied by a member of the Ravens' security staff, to be with his family.
Smith told Ravens coach John Harbaugh that he wanted to play in Sunday night's game against the New England Patriots, according to a source. Harbaugh told him that it was Smith's call to make.
"This is devastatingly sad, sad news. Torrey and his family are a close, special family, and our hearts and thoughts reach out to all of them. Our hearts ache today," Harbaugh said in a statement. "We pray for Tevin, his mother, Torrey and the rest of the family. God bless Tevin."
It was unclear whether Smith would play Sunday night for the Ravens against the New England Patriots.
"Torrey's priority is his family. We understand that completely," Harbaugh said.
If Smith does not suit up, he will be replaced by Jacoby Jones.
On Sunday, Smith put the following message on his Twitter account:
"I can't believe my little brother is gone...be thankful for your loved ones and tell them you love them...this is the hardest thing ever."
Information from The Associated Press was used in this report.